Christmas Lights Installation By A Katy Holiday Decor Installer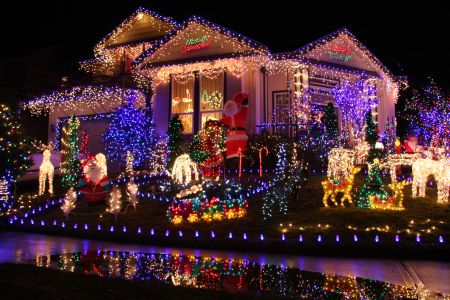 When the holiday season rolls around, make sure your Katy house is a picture-perfect ho-ho-home for the holidays with Mr. Deed's Christmas lights installation! Don't put your safety at risk clambering up to your rooftops to hang Christmas lights- we offer a safe installation option that will have your home looking holly and jolly! If you're interested in having Mr. Deed's lend a hand with our Christmas lights installation service, get a free estimate from us by going online or by calling 281-850-0671!
Holiday Decor Installer
There's nothing that gives your home a bit of Christmas cheer quite like a glittering display of Christmas lights. Every year, people go over-the-top during the holiday season with elaborate displays outside their homes. If you're one of those people that like to give your home that holiday glow, then it's important that you get those Christmas lights up safely!
Christmas lights installation is no easy feat, though. While you may be able to see the ideal layout simply in your mind, actually hanging it on your home can be a real challenge. Every year, hundreds of accidents happen around homeowners putting up their Christmas lights, anywhere from property damage from broken roofs, windows, and gutters, all the way to grave injury from falls from ladders. Nothing can ruin a holiday faster than a trip to the hospital.
Luckily, there's a way to give your home that festive decor while keeping you and your home safe and happy. Mr. Deed's, in addition to being a top provider of pressure washing for Katy, has a few other tricks up our sleeve. We work meticulously and with high-grade tools and safety equipment to safely hang up your Christmas lights exactly to your specifications. Naturally, we also do the removal, so when the holiday season is over, call us back, and we'll take them down for you as well.
Getting Your Home Ready For The Festive Season
Christmas lights installation can make your home glow and sparkle, but it's important that the house behind those lights looks good, too- you don't want to draw attention to a messy house! Before you have your Christmas lights put up, make sure that your home is freshened up and stain-free with a little house washing. Not only is house washing a great way to improve your home's look and color without repainting its surfaces, but it also keeps your sidings safe from deterioration by removing harmful contaminants.
Don't forget to take advantage of Mr. Deed's window cleaning service, too- freshly cleaned windows can really enhance the sparkle of those Christmas lights. Make sure that your home is picture-perfect and ready for the festivities with Mr Deed's Pressure Washing LLC!