A Trusted Pressure Washing Service Provider In Katy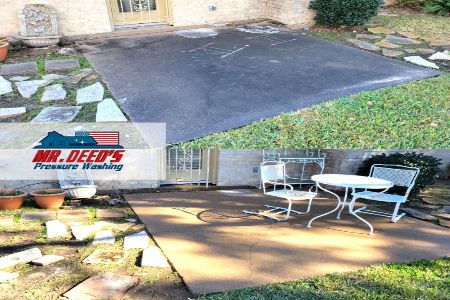 Mr Deed's Pressure Washing LLC is the go-to team for dependable pressure washing service anywhere in Katy and the surrounding areas. When you need a safe and thorough pressure washing service with friendly technicians and reasonable rates, we're always in your corner.
While we list a lot of specific pressure washing and exterior cleaning services on our website, we know that each and every property we work on is unique, and the specific pressure washing service you're looking for may not be listed. If you don't see your ideal service in our lineup, though, that doesn't mean we can't provide it!
As the hard-working, highly dedicated providers of pressure washing for Katy that we are, we make it our mission to help everyone. That means staying flexible and going the extra mile to meet everyone's unique needs. We'd be glad to have a one-on-one discussion with you and plan the exact pressure washing approach that can serve your property the best!
If you're ready to start developing a custom cleaning plan for your home or business, then contact us today. You can reach out through our website or by calling us directly at 281-850-0671. No matter what pressure washing service you desire, Mr. Deed's can deliver it!
Power Washing Professionals
Power washing is a step above the standard pressure washing approach. When normal pressure washing isn't enough to get those stains out, we turn up the heat- literally- by power washing the area with a high-powered hot water blast designed to break up even the toughest of stains.
We reserve our power washing for only the toughest jobs, such as serious graffiti removal or eliminating old concrete stains in driveways or sidewalks. We also often utilize power washing on bigger commercial cleaning jobs, such as for washing parking lots or commercial garages. If you're dealing with heavy-duty stains that standard pressure washing has been unable to eliminate, we can help. Discuss our power washing services with us today.
Custom Soft Washing Care
At the other end of the pressure washing spectrum from power washing is soft washing. Many exterior surfaces don't do well under pressure, and high-PSI cleaning options are risky to use on them. Soft washing uses very little pressure, allowing cleaning detergents to slowly and safely break down stains and mess instead.
Soft washing is a major part of our day-to-day operations. It's the method we use for a lot of our cleaning services, such as house washing, window cleaning, and roof cleaning. Soft washing can also be applied to just about any exterior surface that's too delicate to be pressure washed, such as awnings, overhangs, and even vehicles. If a custom soft washing service is what your property needs, we'd be glad to provide it.