Katy Rust Removal For Thorough Metal Stain Clean Up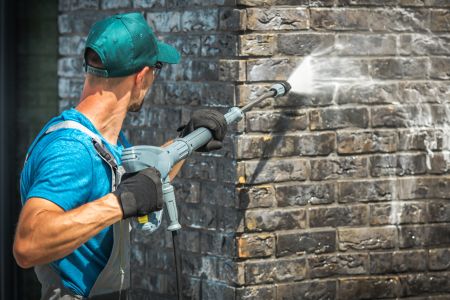 If your Katy home or business is plagued by ugly rust stains, count on Mr Deed's Pressure Washing LLC to help out with our excellent rust removal service. Rust causes ugly stains and can spread itself to surrounding metal, causing more corrosion- but with a little pressure washing, we can tidy up those unsightly rust spots and head off their corrosive effects.
When you've got the best team for pressure washing for Katy on your side, you don't have to wait long to kiss those rust stains goodbye. Take the next step and request a free estimate for our rust removal service, either by calling us at 281-850-0671 or going through our website. Let Mr. Deed's wrangle up your rust today!
Metal Stain Clean Up
Rust can form on basically any surface containing iron that's exposed to water or humid air. It's commonly spotted on areas such as your sidings, pool decks, gutters, faucets, and driveways and sidewalks where rust has dripped from another source. Those distinctive red-brown smears are unsightly enough as it is and they give your property an aged, rundown look. If the rust comes into contact with another metal surface, however, its corrosion can spread, leading to serious damage over time.
Rust removal, as with basically any exterior cleaning service, is not just about making your home attractive, but keeping it safe and in good condition as well. Depending on where your rust stains are on your property, we may either take a soft washing or a pressure washing approach towards our rust removal. As we approach the job, though, you can count on one thing- the total elimination of rust stains around your property's exterior.
Superior Stain Removal Experts
Rust is only one of the many substances that can cause major stains and discoloration around your property. From natural nuisances like algae and mold to artificial substances like motor oil and tar, the nasty substances that can plague your property are numerous, and keeping your property clean of them can feel like an uphill battle. Concrete surfaces such as driveways and sidewalks tend to lock in tons of stains, and many homeowners struggle to keep these spaces clean.
If you've got concrete stains from rust, automotive fluid, or any other source, contact Mr. Deed's and request our driveway washing service. Our cleaning service can also wash up other concrete areas like sidewalks and pool decks, as well as brick or stone-paved surfaces. Say no to stains on your property today, and call us!