Katy House Washing To Brighten Up Your Residential Exteriors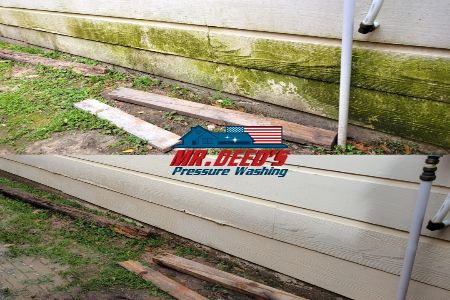 Having trouble freshening up the face of your home? When you've got house washing on the agenda, entrust your home to Katy's finest pressure washing superheroes, Mr Deed's Pressure Washing LLC! With a little pressure washing, we can make algae, grime, and other nasty mess on your sidings a problem of the past.
A little house washing goes a long way when it comes to making your home beautiful and secure year-round. Even washing your home just once or twice a year helps rein in mess and contamination before it can negatively affect your sidings. Curious about having Mr. Deed's work our house washing magic on your lovely home? Call 281-850-0671 or submit a request online, and let's work on getting your house happy!
Exterior Home Surface Cleaning
Ever driven by an old home that just looks like a haunted house? Over time, pollutants like dirt, mildew, black algae, and other mess build up on the surface of a home, staining its surface and weakening the exterior's integrity. Throw in some cobwebs, wasp nests, and other evidence of animal intrusion, and you've got an abode straight out of a horror movie. And without the occasional house washing... this could be YOUR HOME!
Alright, that's a bit of a dramatic scenario. But there's a lot of truth to it. Without regular cleaning, your home's appearance can be seriously negatively affected by algae, mildew, and other contamination. They stain your exterior walls and accelerate aging and decay. Not only that, but if the buildup of allergens like mold spores and pollen becomes serious enough, the harmful substances can find their way indoors, decreasing your air quality and triggering respiratory issues.
The solution is simple: have your home professionally washed a couple of times a year and keep your home safe and tidy! Here at Mr. Deeds, you won't get a rush job with cheap equipment and harsh chemicals. It is our mission to deliver our customers the best pressure washing in Katy. We treat every home as if it were our own.
Using soft washing, we gently remove grime, algae, and other mess from your home's exterior walls with an eco-friendly detergent that rinses cleanly away! We protect surrounding landscaping and thoroughly rinse down the work area after we're through to ensure a flawless and safe job well done!
Safe Home Cleaning With Soft Washing
A lot of the work we do involves soft washing, a low-pressure cleaning system that is used as an alternative to standard pressure washing when the surface being cleaned might be vulnerable to high-pressure cleaning. Using this method, we can get your home clean from top to bottom without running the risk of warping, cracking, or other surface damage.
This goes beyond just house washing. We also use soft washing to safely perform roof cleaning and window cleaning as well! If you're considering booking a house washing from us, consider having your roof and windows cleaned as well. Our expert soft washing techniques will leave your sidings shining, glass glittering, and shingles spotless!