Gutter Cleaning For Free-Flowing Katy Gutters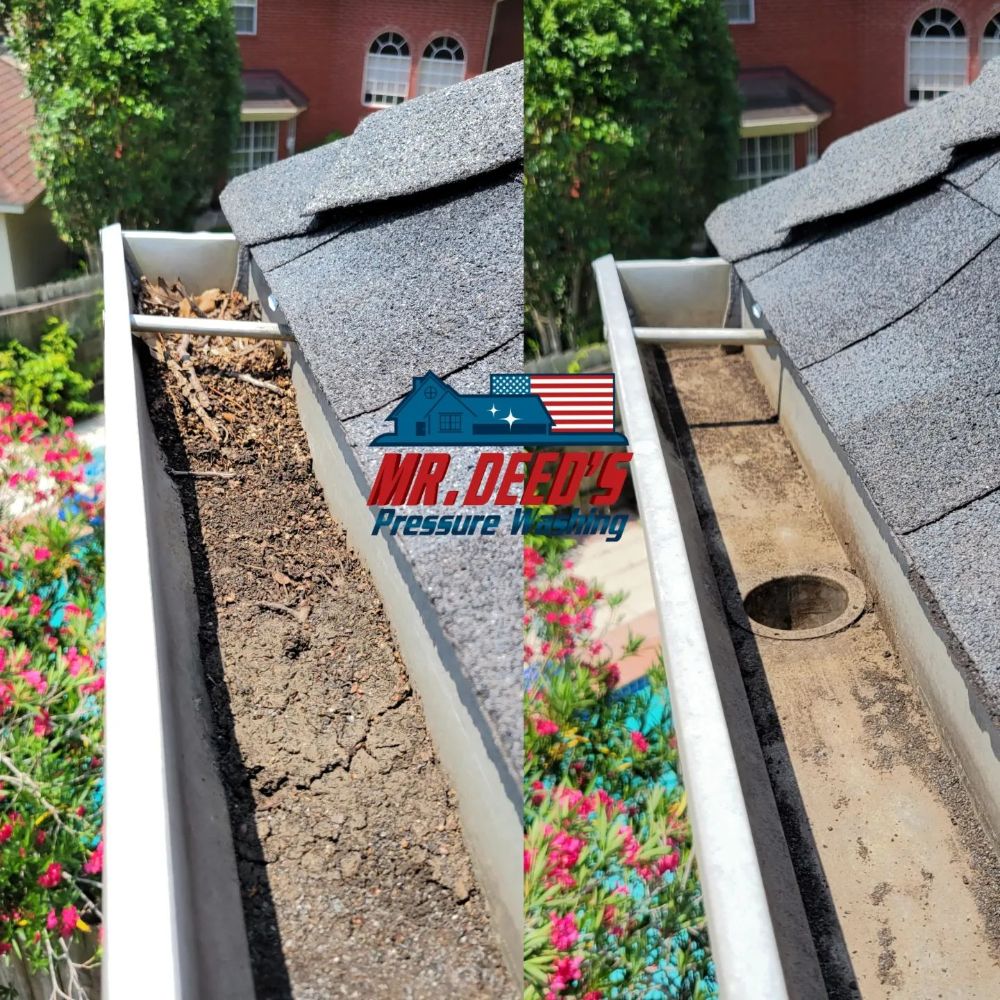 Give your Katy home the care it deserves by choosing Mr Deed's Pressure Washing LLC for our dependable gutter cleaning service! Clogged-up gutters can damage your home, as they're not able to protect your home from water damage. From your roof to your foundation, water damage can seriously cause problems for your home- which is why keeping your gutters clean, empty, and in good condition is a top priority!
When you contact Mr. Deed's for a top-shelf gutter cleaning, you can count on receiving the finest gutter care service in town! We're not only a premier provider of the best pressure washing for Katy, but we're also the locals' go-to gutter care pros! We work carefully to clean your gutters out by hand, clean up surrounding debris on the roof, and rinse the system out to ensure it's working smoothly!
Mr. Deed's wants to help your gutter system be its best to protect your home all year round. Spring and fall are the best recommended times to have your gutter cleaning done, so if your spring or fall cleaning is rolling around, get in touch with Mr. Deed's today. You can request a free estimate by either going through the website or calling 281-850-0671.
Downspout Washing
Your gutters can be as empty and spotless as if they were brand new, but if your downspouts are stopped-up, your whole entire gutter system is still compromised and unable to fully protect your home. Gutter cleaning isn't just about cleaning any debris you can see- it's about cleaning up what you can't see, too.
That's no problem, though - downspout washing is a part of the process with Mr. Deed's gutter washing service. By sending a bit of targeted pressure washing through your downspouts, we can dislodge all kinds of debris and stoppages that would otherwise prevent your downspouts from carrying rainwater away from your house! We don't complete our gutter cleaning until we're certain the whole system is in great working condition, inside and out.
Roof Care
Damaged or gunked-up gutters can harm your roof, but that effect goes both ways- a weakened, debris-ridden roof can compromise your gutters or deposit extra debris, impeding their function. A healthy roof supports healthy gutters and vice versa!
We do a little bit of roof cleaning in the immediate area near your gutters when performing a gutter cleaning, but we offer a more comprehensive separate roof cleaning service as well. We carefully soft wash your roof to break down common roofing hazards like algae and moss while killing their spores and eliminating stains. Not only will your roof look lovely once we're through, but it'll be better protected against the elements and premature aging too. Protect your roof with both roof cleaning and gutter cleaning today!