Driveway Cleaning For Well-Maintained Katy Concrete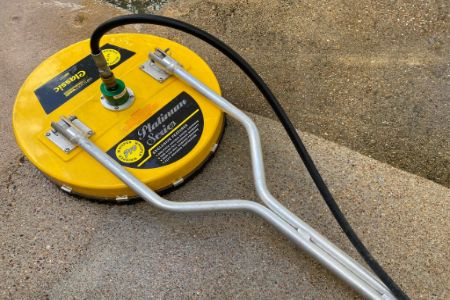 Dirty driveway got you down? Give your driveway a facelift with some top-notch driveway cleaning, courtesy of Katy's finest pressure washing pros, Mr Deed's Pressure Washing LLC! Concrete surfaces such as your driveway are practically magnets for stains, absorbing contamination and locking staining substances in its porous surface. Only precise and professional pressure washing can pack enough of a punch to send those concrete stains packing!
The difference that pressure washing can make on cruddy, contaminated concrete is unbelievable. Check out some photos of Mr. Deed's previous driveway cleaning projects if you're not convinced: the difference between the "before" and "after" is night and day. If you want those kinds of results for your home's driveway, get in touch with Mr. Deed's today. Request an estimate or book a driveway cleaning online or by calling 281-850-0671. Let's get your driveway spotless today!
Concrete Surface Washing
Driveway cleaning, as well as any kind of concrete surface washing, is about more than just improving your home's curb appeal- though that is a big part of it! It's about keeping your concrete surfaces sturdy and secure, too!
Your driveway is designed to be driven over by your vehicles every day, so it's designed to be tough and resilient. However, your car or motorcycle also drips motor oil, grease, brake fluid, and other automotive fluids onto your driveway. These substances are corrosive to your concrete and can spell bad news for your driveway. Over time, they slowly weaken your concrete. Not only do they cause ugly stains, but they can also contribute to cracking, flaking, and other deterioration in your driveway.
The good news is that pressure washing is a quick fix to this issue! We use excellent, commercial-grade pressure washing equipment that can pack a real punch. The sheer force of the pressure washing is enough to scour out harmful chemicals and stubborn stains on your concrete surfaces. After we've completed our driveway cleaning, your driveway should be better protected against premature deterioration- and it'll also be spotless and several shades brighter than before, too!
Do Right By Your Driveway- Get It Sealed!
Driveway cleaning is only one part of optimal driveway care. You can clean that concrete all the time, but the truth is that if your driveway is left unsealed, that concrete is far more vulnerable to the effect of corrosive pollutants than if it had a protective coating over it. Unsealed driveways also absorb more moisture, and the cycle of rapid freezing and thawing in the cold winter months can expand and contract the trapped moisture, causing cracks to form.
Most driveways should be resealed about once every other year to keep up with the wear and tear the elements put on your driveway. While Mr. Deed's might be the ultimate source for the best pressure washing for Katy, we don't just stop at plain old pressure washing. Don't find another contractor just to seal your driveway- we'll handle that for you too. With a combination of driveway cleaning and driveway sealing, your driveway will be better protected against the elements 365 days of the year!