Solar Panel Cleaning & PV Panel Washing For Katy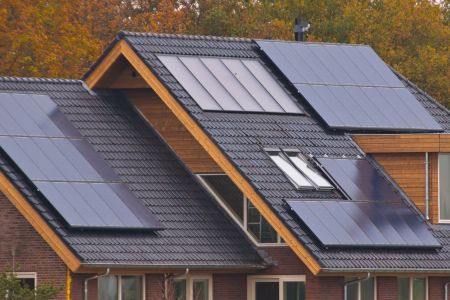 Soak up the Texas sunshine a little easier in Katy with solar panel cleaning from Mr Deed's Pressure Washing LLC! If yours is one of the many thousands of homes across the US to take advantage of a solar panel installation, then it's important to make sure that it's pulling its weight by generating lots of cheap, clean energy for your home! Don't let dirt and debris get in the way of lower energy bills- our solar panel cleaning will keep your panels operating at max efficiency throughout the year!
If you're interested in improving your solar array's efficiency and output with our solar panel cleaning, then contact us for a free estimate! You can request one online or by calling 281-850-0671. Let us help make your solar panels superb!
PV Panel Washing
For your solar panels to work at maximum efficiency, they need to have ample, unfettered access to the sun. It's why you don't set up a solar array under foliage or in a shady spot- if sunlight can't get to your panels, they won't work.
There's a less obvious issue that can affect your solar panel's efficiency though. Your solar panel array may be set up in the perfect spot to absorb tons of sunlight, but if layers of dirt, pollen, and film have built up over your solar panels, not all of the sunlight that hits your panels will actually be received by the PV cells.
Some think that solar panel cleaning is unnecessary because rain will take any debris off. While rainfall will somewhat help with dirt, other stickier substances like pollen and bird droppings need a little more coaxing to find their way off of your solar panels. That's where we can help.
Your solar panel array is a delicate and complex system and must be treated with care while cleaning. Don't settle for anything short of the best pressure washing for Katy- call us. With our high-grade safety gear, equipment, and cleaning detergents, we can utilize soft washing to safely wash your panels free of film and debris. After Mr. Deed's solar panel cleaning, you should notice your solar panels' efficiency improving, helping you keep energy bills and pollution low while keeping your spirits high!
Soft Washing For A Superb Solar Home
Soft washing is one of our most commonly utilized cleaning methods here at Mr. Deed's. It helps us safely clean delicate exterior areas where pressure washing is unsafe, such as your solar panels.
If you're considering having us clean your solar panels though, give a thought to the rest of your house. If you've noticed grime or algae stains on your roof or sidings, it may be a good idea to have us soft wash those areas too. With roof cleaning and house washing, we can protect your home from algae and mildew and boost its curb appeal! If you think it's about high time you had your home cleaned, call us today.