Driveway Sealing To Protect Your Pristine Pavement In Katy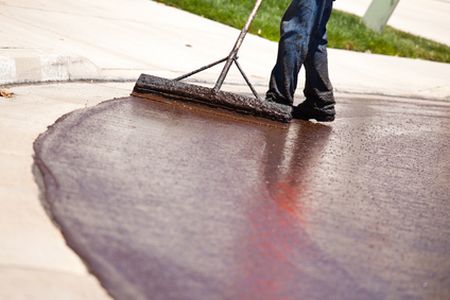 If you want your driveway to be safe and well-protected against the elements, then keeping it properly sealed is key! Make sure the protection on the driveway of your Katy home is up-to-date with Mr. Deed's helpful driveway sealing service! Finding a contractor to seal your driveway can be a hassle, but doing it yourself is time-consuming- let us simplify the process and secure your driveway!
Concrete is a sturdy surface designed to hold up to foot and vehicular traffic day in and day out, and many people take its sturdiness for granted. Like any exterior surface, though, concrete can be weathered away by exposure to elements, moisture and ice damage, and the corrosive effects of automotive fluids and chemical spills.
When it comes to the integrity of your driveway, preventative care is key. Driveway cleaning is an effective means of controlling mess when done on a regular basis by a professional. However, for long-term protection, it's important to ensure that your driveway can stand up to the elements in between cleanings. That's where driveway sealing comes in.
Having your driveway, as well as any other concrete surfaces, sealed about once every 2 years is the best line of defense against permanent stains, cracking, and other damage. Naturally, driveway cleaning is part of our roster as an in-demand provider of pressure washing for Katy. That's why we believe our customers shouldn't have to hire a whole separate contractor for driveway sealing- we can do it all!
If you're interested in taking advantage of our driveway sealing service, get in touch with us! You can request a free estimate from us by either going online or calling us at 281-850-0671. Don't let your driveway face the elements unprotected!
Pavement Sealer
Concrete isn't the only thing we seal. Paved areas are also vulnerable to weathering and deterioration, especially if they are improperly sealed. If you have pavement or brick areas around your home that need a new coat of sealant, call us and ask about our paver sealing service. We'd be glad to lock in color and integrity and lock out moisture damage and stains to keep your pavement perfect.
Rust Removal
One major cause of ugly stains on concrete is rust. The red-brown substance can drip from pipes or other corroded surfaces and sink into your concrete, becoming a major eyesore.
While it luckily doesn't have much effect on concrete, rust can corrode and spread itself to other areas of your home. Whether it be on your driveway or around your home's exterior, rust is bad news in general- so don't let it stick around. Contact Mr Deed's Pressure Washing LLC for our rust removal service.