Professional Full Service Christmas Light Installation in Katy, Texas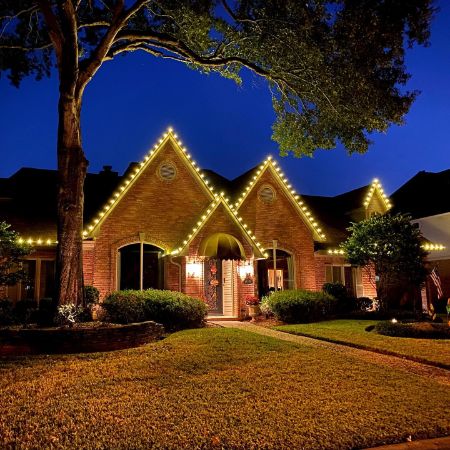 It seems every year that as soon as Halloween is over, in early November Christmas Lights start popping up! Black Friday seems to arrive with a quickness and Christmas has officially started. There is nothing wrong with decorating your house in early November. This time of year, installers start getting very busy. Before Thanksgiving, our phones are blowing up with quote requests and it is a very good idea to get quotes and get on the schedule well before December 1st.
The big box stores start rolling out the Christmas decorations and inventory at the same time as the Halloween decorations in Late August and early September. The prices for material have been rising steadily since 2020 and with recent inflation, it does not seem like anything is going to get any cheaper in the coming future.
In 2020, commercial and residential suppliers were running out of material for Christmas lighting due to the shipping container wars. Since then, the shipping container pricing has lowered tremendously, but the prices have not lowered in any regard. Luckily, supplies this year (2022) seem to be in good stock early in the season.
Many big box stores quickly run out of supplies and lights well before Thanksgiving. They throw all the inventory on the floor before Halloween, and eventually it all sells out early. It seems like at the end of every summer, Christmas season gets an earlier start than the year before. At this rate, the Christmas shopping season will start in late July, in the year 2029.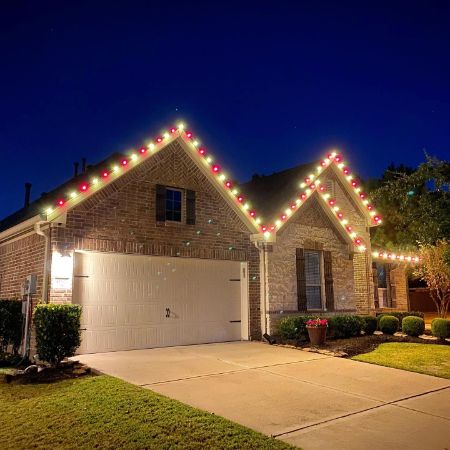 Throughout the "Christmas Lights" season, I spend most of my evenings after dinner, loading my three kids in the minivan and we drive throughout our and nearby neighborhoods. We love checking out all of the local neighborhoods' Christmas Lights and decorations.
There is a nearby neighborhood that out kids absolutely love driving through located in the West Houston area on Quincannon Lane. It is located in an area of the 77043 zip code, right off of Gessner, and Kempwood drive. This street is lined up and down with some of the best "free" Christmas lights displayed in the West Houston area.
The entire street is lit up with light and decoration displays on both sides. Go during the week, because on weekends there is a long line of cars, waiting to slowly drive through and around the neighborhood. It is well worth it for the children to see this one time. There are Gingerbread men, Christmas trees, Reindeer, hundreds of thousands of lights involved and more door than you can shake a stick at. Rumor has it that it is lit up with lights and "leftover displays" that were used in years' past to decorate the local mall and shopping centers. The guy who installs them uses the leftover decorations to bring cheer to the neighborhood. It's a free attraction and rivals Santa's Wonderland for sure.
An inflatable Santa, Reindeer, or Christmas tree is a nice "easy display" for those wanting to decorate the lawn in front of their home. Stake lighting is also very popular to outline landscaping and walkways. Tree wraps accentuate the live oaks that folks have in their yards in our Katy and Houston areas. Mr Deeds specializes in roofline Christmas Light hanging, stake lighting, and tree wraps.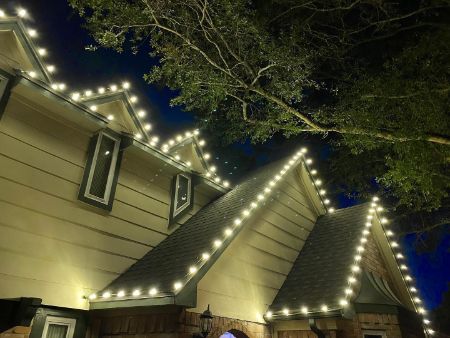 Many families love driving around the neighborhoods as well. We drive around and see small kids peering out of the back seat windows of minivans and SUVs. We notice other cars driving around slow and stopping in front of some brilliantly lit up homes. My kids and I are in awe at every single home that spreads Christmas cheer.
Here at Mr Deeds Pressure Washing, we want to extend an invitation for you to give us a call and choose us for your professional Christmas Light services. We want to hang Christmas lights for you!
Why Choose Mr Deeds to install Christmas Lights?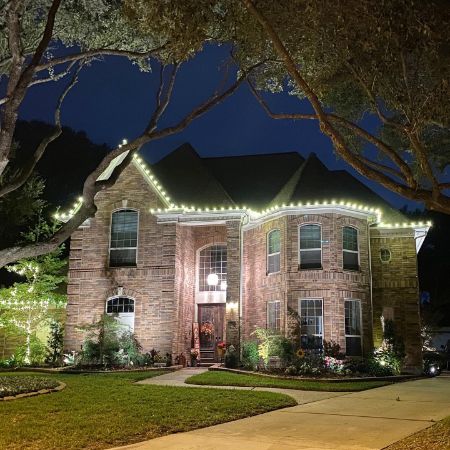 We are a small family owned business that started in 2019. We truly care about your home's lighting display and promise to do a great job. We want to do great work because we want your friends, family and neighbors to use our services as well. Our reputation is front and center on your street throughout the month of December.
We supply everything for your homes' lighting display. We handle the design and layout, cut lights to match the facade of the home to get the professional look. We go up the high peaks and do great work! You don't have to worry about timers, or bulbs going out or the dangers of doing it yourself and falling off the ladder. We are meticulous and slow on every install to ensure a great display.
We count out every bulb and cut the light line to fit perfectly on your home. We make sure that every peak has a bulb at the very top because attention to detail is our priority. We use special shingle and gutter clips that "lock the bulbs onto" gutters or shingles so that the bulbs do not come loose and hang off the side of your home. We go above and beyond to ensure that your home looks amazing this and very Christmas season.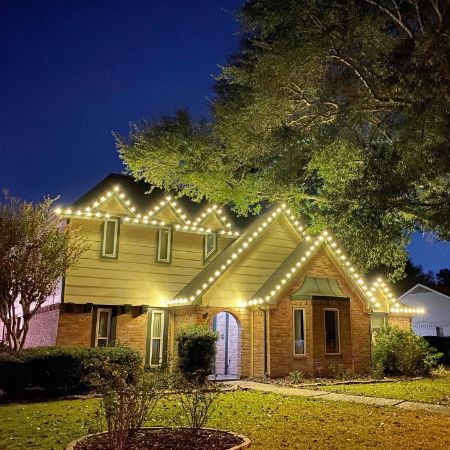 We first started installing customers' Christmas Lights back in 2020 and only did a handful of installations of customers' lights. We realized that we could provide a quality service and shortly after our first season, we attended a pressure washing convention in Atlanta Georgia for installation certification on safety for pressure washing, and plant and property protection.
After the convention, we then traveled to another training event and attended a Professional Christmas Light Installation course put on by CLIPA "Christmas Light Installation Pros Association" (www.clipawebsite.com) to ensure that we knew exactly what we are doing when it comes to Christmas Light installation. We spent the money on professional training that included two days in a classroom; learning "visually and hands on" Christmas light safety, installation, wiring, sourcing and decorating commercial and residential properties with commercial grade materials and most importantly, professional and safe installation.
Ladder safety, roofline/gutter lighting and tree wrapping were just some of the key points in the training. We pride ourselves on designing and installing every job. We do not hire 2nd or 3rd party installers. We design, cut, install and store our lights ourselves. Our only mission is to give you a Christmas Lights display that will make your neighbors envious. It is important to us that you love your Christmas Light display. Last year, We received over one dozen calls from "local installers" asking us if we could handle some of the overflow from client lists because they could not find enough help or laborers. I was shocked at the amount of calls we received asking to install for other companies. Some guys get so big and sell so many jobs that they cannot keep up with demand or hire enough help to do it. We do not want to grow too fast or get too many clients because we want to do great work with every client.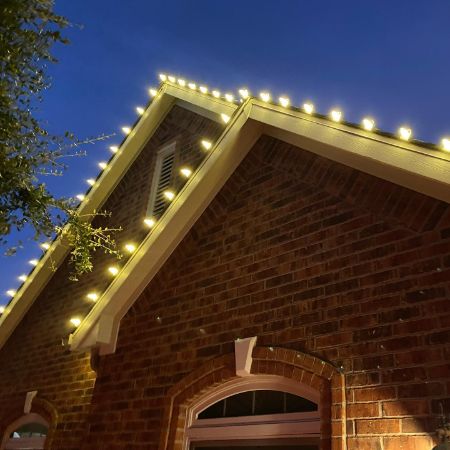 We only service enough customers that we can comfortably install safely, ourselves. We will never use contractors to show up to install lights on our customers' homes. Some or many of the installers in the Houston and Katy area sell jobs and then hire untrained contractors to show up and install the lights for them. We are accepting new clients this season and would love to help you with your Holiday lighting displays!
We pride ourselves in providing a great service for our customers. We care about your Christmas lights display and know that if your home looks amazing, Mr. Deeds Pressure Washing looks amazing too.