It is now 2023: When was the last time you cleaned your gutters?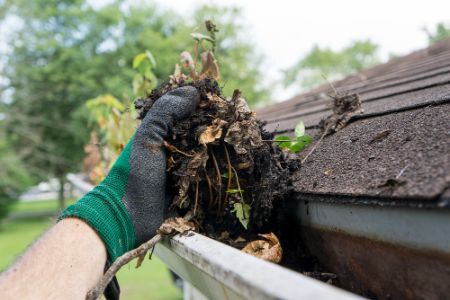 I casually joke with my clients that if they want to lose fifty pounds for their New Years Resolution, they need to get their gutters cleaned by Mr. Deeds! The amount of shingle muck granules, leaves and debris we remove from every home is staggering to say the least. Even homes with no trees around need a cleaning or blowout and flush of the system. Some homes have enough leaves, muck and debris to fill one heavy trash bag, and others can have six bags weighing over two hundred pounds.
On New Years Eve 2022, Mr. Deeds cleaned the gutters of a homeowner in Katy, Texas who has lived in the house for twenty one years and had never gotten her gutters cleaned. She was minorly embarrassed that the gutters were spilling over and causing ruts in her flower beds from water pouring out like a waterfall when it rains. She knew it was time to get them cleaned and with a referal from a friend, she called us!
The clients' home had wrap around gutters around the entire second story and gutters on the first level that were fed into from the downspouts of some of the second story drains. When we got up on the ladder to clean them out, we noticed an inch of gutter granules (muck/mud) that was present throughout most of the gutters and had completely blocked up all of her gutter down spouts. Every downspout around her home was caked full of the gutter muck and mud.
Over time your shingles on the roof will release small granules. They detach and fall off due to rain, sunlight and the elements. They fall into the gutter and accumulate over time. Sometimes they are rinsed out with a heavy rain and if the gutter down spouts are obstructed or already have debris in them, the granules will sit in the gutter and turn into a mud or a paste and form a solid block in your downspouts. If your downspout is blocked, rain water has nowhere else to go but over the top of the gutters.
This particular client had twenty one years of shingle granules, leaves and debris in their gutter system that had added up to form a heavy sludge and eventually turned into a "concrete" of granules. There was literally a sponge of moss growing in a section of gutters that takes years to grow and thrive in the Houston Gutter environment.
If your gutters accumulate too much mud and muck combined with the falling leaves and sticks in them, they will eventually become blocked or will fill and "cake over" the down spouts. When this happens, the downspouts are not able to allow water to flow down to the ground and have water redirected from the home. Instead, the water in the gutters accumulate and adds weight to the gutters which pulls the gutters off the home and loosens the gutter nails. If water is spilling into the home, major damage can be done in just a short amount of time. Water needs to enter your gutters and run down the down spout and be directed into the yard or landscaping beds to prevent water damage or foundation damage to the home.
Over time, gutters that are filled with debris and water can bend/bow and become less than efficient because they do not move water to the down spout. The gutters can bend and bow in areas where water stagnates and collects debris that will pool and eventually turn into algae. Stagnant areas and heavy debris can hold water and debris that allow insects to live and thrive. The weight of the water and debris in your gutters is serious. There are many instances we see of cockroaches and fire ant colonies and even earthworms (from the birds) living in clients gutters. Cleaning your gutters can decrease the amount of bugs in and around the home. Pest control should not have to spray your second story gutters. In fact, they do not.
Most homeowners do not realize that they need their gutters cleaned once a year depending on the foliage around the home. Routine maintenance with an annual inspection or repair can save thousands of dollars in the long run. Peace of mind is priceless when it comes to knowing you have a clean and efficient property.
If you notice long dirty or mildew streaks streaming down your home, you most likely have a clogged down spout that should be cleaned immediately to prevent any damage or further growth on your home. Mildew or algae grows below a gutter in a streak, because the water that spills over the clogged gutter "feeds" the mildew and algae over time and encourages it to grow. Mildew and algae need three things to "take over" one side or area of your home.
Mildew and algae needs water or moisture to start and grow. If you have an area of the home that is always wet (sprinkler or dripping and leaking gutters) it will give the algae something to feed on. If your gutter is dripping water down the side of your home from being clogged or standing water that is leaking from the gutters, water is spraying the wall with moisture and organic matter (leaves and debris) from inside the gutter which causes organic growth.
Mildew amd algae need shade to survive and thrive. This is why some areas of the home look really dirty and some may look fine. If the front of your home has gutters that are full and clogged and there is a black streak flowing down a wall, it is growing faster or is more prevalent because of the water flowing down the home. If you have pine trees or live oaks and shade trees in front of the home, their leave or needles can clog your gutters as well as possibly shading the home just enough to allow algae to grow faster. Algae needs shade and moisture to grow.
When you have overflowing gutters or water flowing directly from the roof the the ground from one or two stories, water falls into the flower beds and splashes organic matter and dirt from your garden back onto your home. Essentially, every time it rains, water and organic matter splash from the ground onto the bricks or windows onto the bottom two feet of your home.
If you have a bunch of black or green mildew growth around the bottom two feet of you home, it is most likely the result of back splash from gutter or roof runoff. Consider adding gutters aboeve the area or cleaning the gutters directly above the dirty area if they are present. Wherever there is growth and organic growth near the foundation, it helps to look up to the roof and see if there is an area of water runoff or a clogged gutter up there that is splashing onto the home.
If you have an area that has water directed from the roof to the ground, it doesn't hurt to put some landscaping river rocks in that area to allow the water to splash off of the rocks and stop if from eroding the soil and splashing organic mud onto the home every time it rains.
Gutters play a major part in keeping your home or property clean. Just one clogged down spout can potentially be the cause of thousands of dollars in wood rot. Water from runoff also can leak into the home and cause "invisible damage" between the walls. Water causing mildew and algae can also cause window seals to fail. Rain water running down the bricks or Hardie plank can allow mildew and algae to grow faster and stronger than it would if the gutters were working efficiently. Remember, algae needs shade and moisture to survive. Clean your gutters and dont give mildew a fighting chance!
In summary, Call Mr. Deed's today! We service the West Houston, Cypress, Fulshear and Katy, Texas areas. We provide a great service at a great price. We do a thorough cleaning of your gutter system for your home or business. An ounce of cleaning and prevention can pay off in the long run. You need your gutters cleaned once per year. If you didn't get your gutters cleaned in 2022, you will most definitely need our services in 2023. Choose a local, family owned small business for your cleaning needs. You may have tried the rest, now try the best! We also clean windows, wash houses, pool decks, driveways and more!