Storefront and Commercial Window Cleaning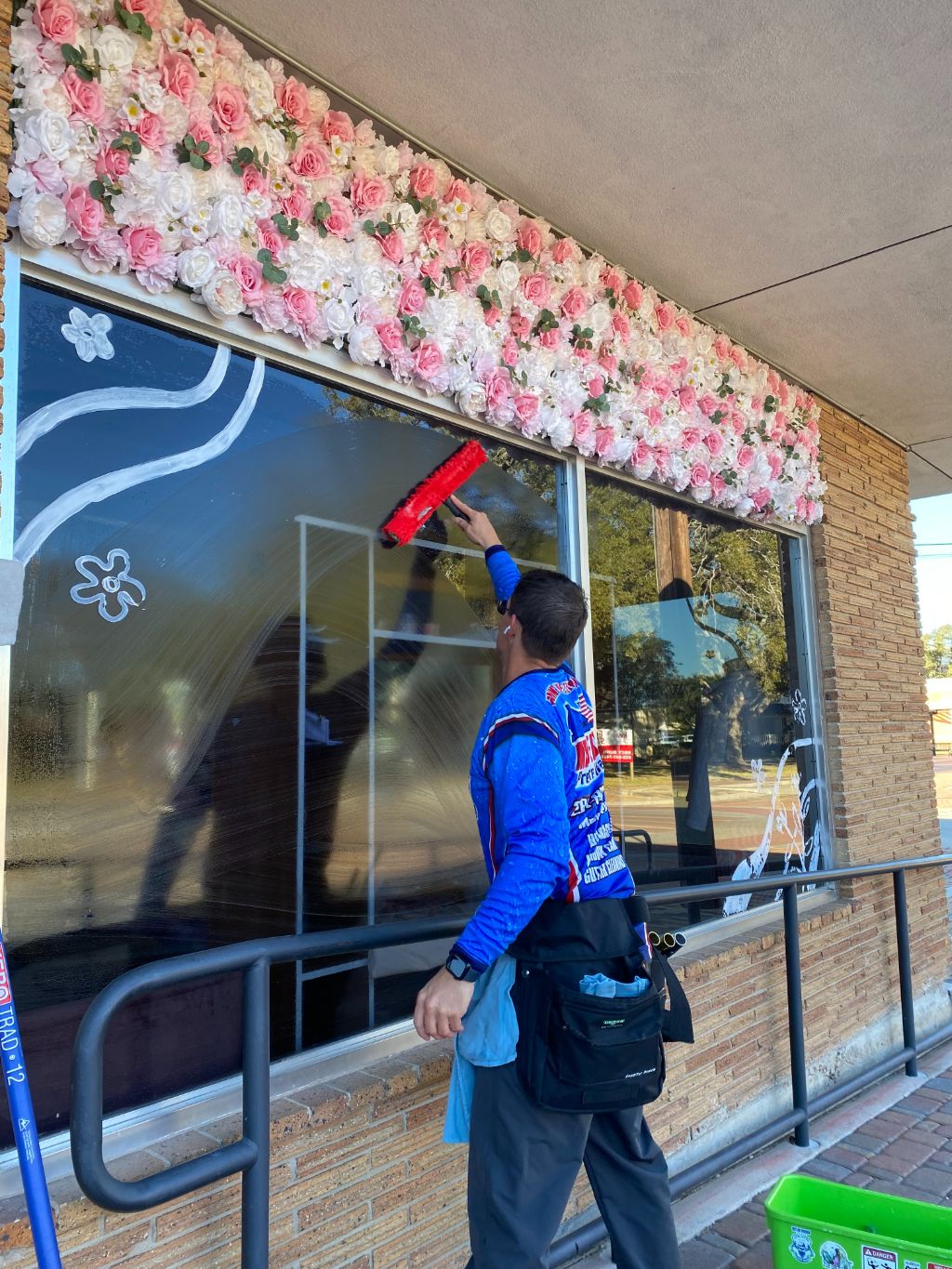 When walking into a store, business, restaurant or office in the Katy Texas area, what is the first thing you see? Most likely it is the front door or windows that you are walking up to. If the glass is clean, you see through it into the inside of the business instead of a dirty window.
Every time a potential customer walks into your business, they look through the front windows. Those windows are the first thing that your customer sees. You may not care if they are dirty, but your customer might! The first impression of your storefront or office can really influence your customers' buying decisions. Having clean windows at your business is as important as the yard and landscaping for your home.
How Often Should You Get Your Windows Cleaned?
Your nextdoor neighbors spend $20-$40 every week in the summer, to keep their yards mowed and grass looking good. They will be back on the same day next week. Why? Because the grass continues to grow once the trailer gate slams shut and they drive off. It's the same with window cleaning. Once your windows are clean, its only a matter of time before they get dirty again. Exhaust and pollution, the wind whipping up dirt from the sidewalks and parking lots, and hand prints will start accumulating on the windows as soon as they are clean. The key is to stay on top of the buildup and clean them periodically. Some businesses have their windows cleaned every week, month, or every few months.
Not everyone needs weekly cleanings, but if your business gets a lot of foot traffic or there are many people opening and putting their hands on your front glass doors, you may find it necessary to have your windows cleaned more often than not. Hand prints remain until they are cleaned off. Let us help you with that. Also, windex and a paper towel leave behind lint and soaps that remain on the glass and actually attract more dust, dirt, and debris to stick to. Squeegeeing the glass (like we do) keeps your windows cleaner longer. Also, the right window cleaner uses more sophisticated soaps and cleaners than just (dawn dish soap) to keep the window cleaner longer.
Mr. Deeds Window Cleaning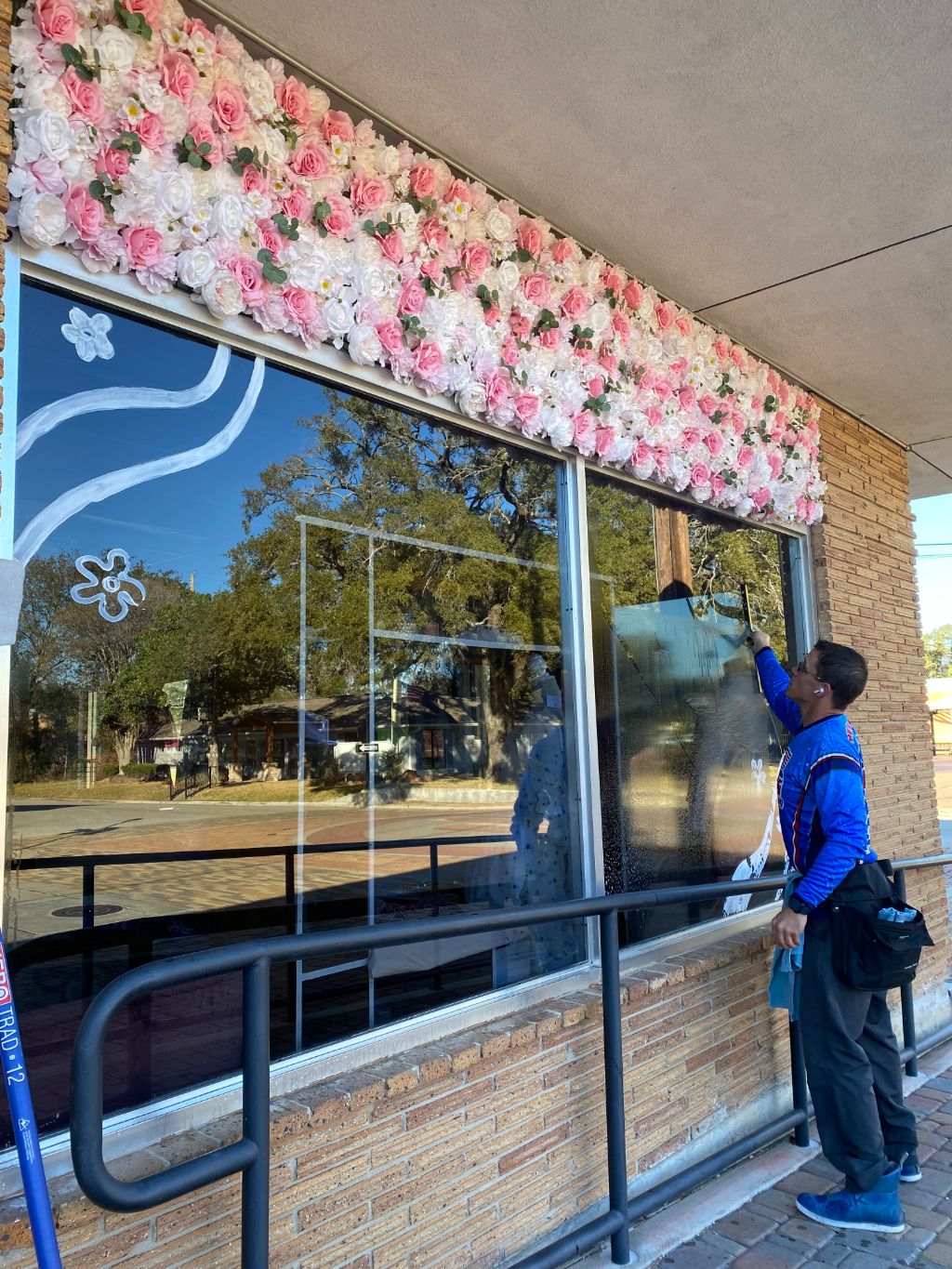 Treat your Katy, Fulshear, or Brookshire small business with the respect it demands by taking care of your image. Sunlight through the windows in the business makes for a happier and healthier work area.
You are a busy person and the last thing you need to think about or worry about is scheduling someone to clean your windows. Managing a small business can be tough. We can take care of window cleaning and clean your exterior windows before you open; weekly, monthly or quarterly.
Mr Deeds Pressure Washing offers commercial window cleaning for large and small businesses. We clean storefronts, restaurants, lawyer offices, insurance agencies and more up to and including three stories. We offer exterior and interior window cleaning in the Katy and West Houston Texas area. Some of our customers want us there and cleaning before they open for convenience of being out of sight and out of mind.
We can schedule cleanings at your convenience and can keep your window cleaning on a relaxed schedule. Think of some of the business you may have been losing because of a dirty exterior or windows?
When Covid hit in 2020, everyone stopped cleaning their windows because there was no-one walking around shopping for a while. How long has it been since you've had your windows cleaned? If you aren't happy with your current window cleaner, why not give Mr. Deeds a try? We would love a chance to earn your business! Call us today at 281-850-0671.