The How-Tos Of Incredible Interior Window Cleaning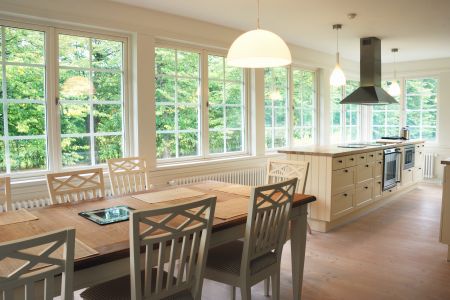 Having clean windows keeps your home healthy, happy, and attractive from the inside out! Not only do clean windows make your home look nicer from the outside, but they actually make you feel better indoors, too! Studies have shown that having plenty of natural light indoors improves the moods of the inhabitants, increasing levels of happiness! In addition, sunlight has also been proven to have some antibacterial effects, killing nasty germs and improving air quality indoors!
Of course, for your household to reap the benefits of natural lighting, your windows have to let the sunshine in first. Messy, cloudy windows darken your home, inside and out. While a pressure washing professional can expertly wash your windows from the outside, what's the best way to get your interior windows clean? We've got a few tips that we think can help.
Keep On Top Of Your Window Cleaning With A Schedule
While your exterior windows need to be cleaned only about once every 6 months or so, you should have your interior windows cleaned a little more often, about once every 3-4 months. This prevents mess like handprints, dust, kitchen grease, and other substances from building up extensively on your glass. The more frequently you clean your windows, the easier it will be. Keep track of how long it's been since you last cleaned your windows, and tidy them up as needed!
Clean Up The Dust First
Dust holds a lot of allergens, negatively affecting the air quality of the room. It's also a pain when you're trying to clean your windows- don't spray cleaner on top of dust, or you'll be left with fuzzy stringy lumps of nasty wet dust. Yuck. Before you can clean your glass, that dust has got to go.
Open up your window and use a nozzle or handheld vacuum to suck up dirt, dust, and pollen from the window frame. Then, clean the interior window frame as well as any blinds or shades with a microfiber cloth or duster. Once you've gotten rid of all the dirt and dust, it's time to move on to the next step.
Lay It On With The Sprayer
Don't hold back with the window cleaner. The more of it is on your windows, the quicker and easier it will break down grime, grease, and filmy build-up. You can use your preferred brand of window cleaner, but if you're not a big fan of using products with a lot of chemicals, you can make your own simple but effective streak-free window cleaner this way:
2 cups warm water
1/2 distilled white vinegar
1/4 rubbing alcohol
(Optional) 10 drops of antimicrobial essential oils like lemon, tea tree, lavender, etc.
Mix these ingredients into a spray bottle, then spray it liberally on the windows. Once your windows are fully sprayed down, wipe them across and down with a microfiber cloth or newspaper. Don't use paper towels- they leave lint all over the glass, which is a pain to clean up.
Clean Up Excess Water
Once your window is cleaned to your liking, go back over the window and absorb any excess water with a lint-free cloth. Some opt to squeegee their windows instead, and while this is also an effective method, it can be a little messy indoors, so we'll leave that your discretion. Either way, cleaning up excess water will prevent cloudy water spots from appearing, leaving your windows spotless.
Now that you've gotten your interior windows sparkling clean, it's time to make sure their exteriors match, too. Mr Deed's Pressure Washing LLC can provide our excellent soft wash window cleaning service to get your exterior windows fabulously clean! If you need a reliable pressure washing expert to handle your exterior window cleaning, we've got you covered. Give us a call at 281-850-0671 and we'll get your glass glittering and gorgeous!