When Is The Best Time To Clean My Gutters?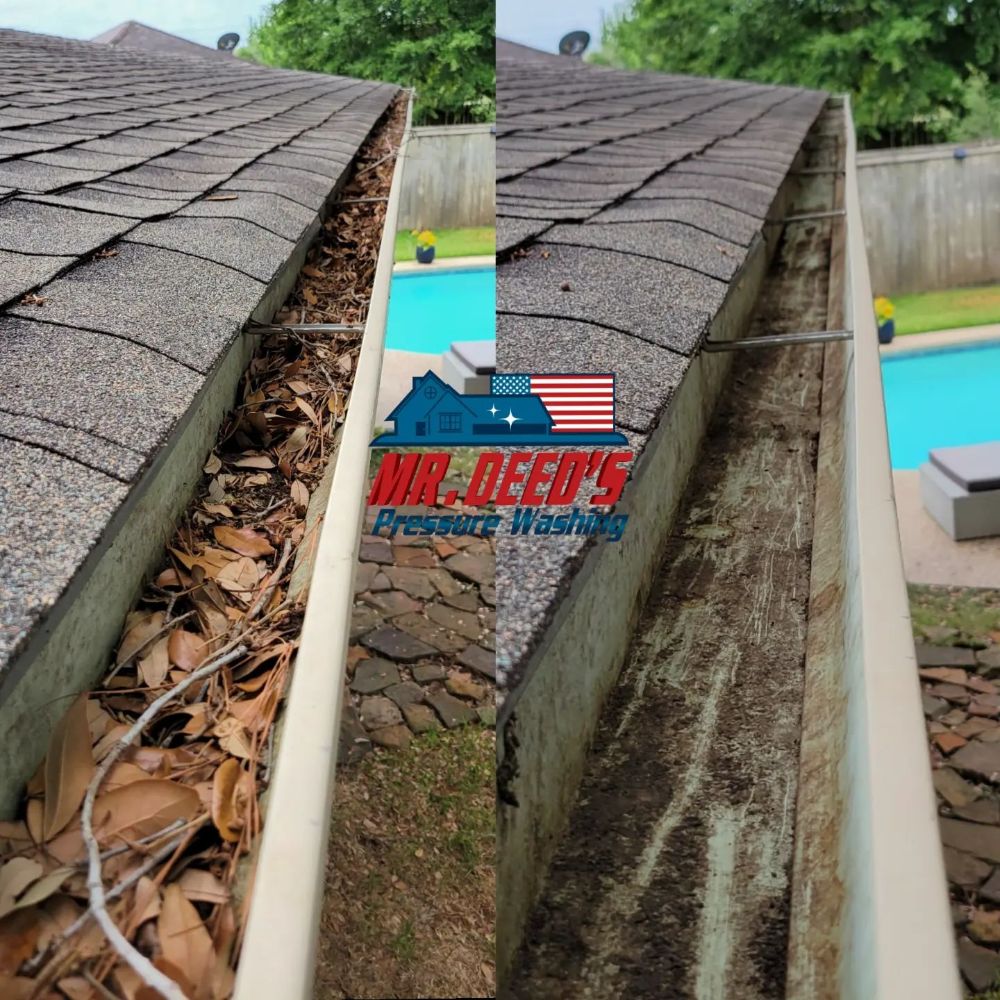 You may be asking yourself…
"How do I know when it's time to get my gutters cleaned"?
The easy answer is NOW, if any of these questions resonate with you.
If your gutters look full, then it's time to get them cleaned.
If you have plants growing out of the gutters, it's time to get them cleaned.
If you moved in three years ago and don't remember cleaning them out, it's time to get them cleaned.
If you have black streaks running down the side of the house from the gutters, you have mildew and a clogged downspout, and it's time to get them cleaned.
If you cannot remember if you cleaned them last year or not, it's time to get them cleaned.
If you do not want your landscaper on a tall ladder again, it's time to get them cleaned.
If the last guy used a pressure washer to blow out your gutters, it's time to call Mr. Deeds!
People often ask me, "When is the best time to have your gutters cleaned out?" I always tell them the best time was six or nine months ago, and the second best time for gutter cleaning is today. Do it before the storms are coming. Even homes with no trees around can still have over one hundred pounds of shingle granules and muck in their gutters. Two hundred feet of heavy grit and mud adds up over the course of a year or three.
One of the main reasons that people choose Mr. Deeds Pressure Washing for gutter cleaning is because we do amazing work. Your gutters will receive attention to detail with no surprise invoice charges. If we have to do a repair or anything, we tell you first and take pictures.
Your gutters will be cleaned by hand or with a tool and extended poles, as long as the work area and ladder placement is safe and clear of plants. We work slowly also because we are safety conscious. We want a job well done more than you do. We do every job safely!
*We also do not walk the roof with a blower and blow muck and leaves all over your garden and driveway (unless you really want us to). We leave your property better than we found it.
We make sure that we scoop debris by hand and bag the debris instead of leaving it all over the yard. Also, when pine needles and debris sit on the roof too long, they hold in moisture and increase the risk for more organic growth. We can carefully remove roof debris as well.
You want to be sure that your gutters are working because if they fail or get clogged, they can cause hundreds or thousands of dollars in damage fairly quickly. Full gutters allow rain and stagnant water to leak over the front and back sides of your gutters.
Premium packages of our gutter cleaning also include pictures: We send out before and after gutter shots so you can see the work was done and the results. We know that only slow equals clean. We are never in a hurry to get the job done. We can also offer a great price to unclog and take apart downspouts as well if it is needed to clean out the blockage in the gutter system. Premium cleaning also includes rinsing out of the inside of the gutters and downspouts to ensure the shingle gutters are working to 100% efficiency.
After every cleaning, our customers ask when they should get their gutters cleaned again. I tell them that gutters with trees around and above them should be cleaned every six months or so. Homes that have less foliage or trees around should get cleaned and inspected every year.
We make sure to do the best job possible so that you call us back next year and tell your friends and neighbors about how great we are. We also offer discounts for yearly and maintenance cleanings. Pine needles are constantly falling all year long and they can also create a mat on the singles or corners in the roof that should be cleaned as well.
Live Oaks are very prevalent here in the Katy, Cypress and Houston area. Many of the oaks drop acorn clusters that fall onto your roof and roll into the gutter and clog up the system or down spouts. Crepe Myrtles are also notorious for clogging gutters with their berries and flower blooms and bundled clumps that make their way into the gutters. Trim back your trees from your home and roof and you will see less chance for damage to your home as well.
We also offer minor maintenance like gutter nail resetting, downspout cleaning, gutter stick installation, and gutter screen installation and removal.
Mr Deed's Pressure Washing also Wash houses, windows, driveways, pool decks, parking lots and more. Reach out to us anytime if you ever need any help with a project. If you live in Katy, Texas or the surrounding areas, please reach out. We love our communities and love working for you to make you home a better place!
Cane Island, Green Trails, Kelliwood and more, we want to service your gutters!
Reviews & Testimonials on Mr Deed's Pressure Washing LLC
There are currently no reviews or testimonials, check back soon!


Warning: Undefined variable $disableGeneratedMap in /home/mrdeedspw/public_html/fbm-data/themes/default-theme/layouts/City.php on line 36